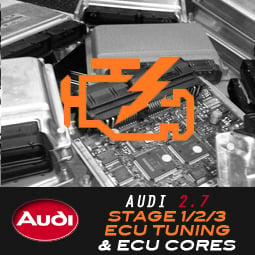 $

245.00 - On Sale
PROJECTB5 - Audi 2.7TT ECU TUNING & ECU CORES
*ALL 2.7 Vehicles are supported, S4, ALLROAD, A6
PB5 offers custom ECU mapping for any/all VW/AUDI/MERC vehicles.
We have many tried & true tunes for your driving enjoyment...
Be it a:
-Stage 1 (+) Tune : How the car should have felt from the factory
-Stage 2 (+) Tune : With those intake and exhaust mods giving your 2.7tt a breath of fresh air, we raise the boost and get a bit more aggressive with it. This is a seriously quick street car, on the stock k03 turbochargers!
-Stage 3 (-/+) Tune : You've pulled the motor and installed something larger than k03 turbochargers (various k04's, rs6-x, tial 605, 770, etc...)
and your thirsty for more power. You've also likely upgraded the fueling setup, intercoolers, MAF, among other things. Your ready to put a hurtin' on some super-cars.
Manual or Tiptronic Transmission cars are both supported equally.
----------
This is a just a general run down on the basics behind the "Stages" of the 2.7 tuning world... We can also cater to the built motor/big turbo/not your run of the mill setup.
----------
SPECIFICS
-Included in the cost of the tune is custom code such as SECONDARY O2-EGT-SAI-EVAP deletes / Launch Control / Anti-Lag / NLS
*Turn around time is generally 2-3 business days from the date we receive your ECU -OR- we can setup a time for REMOTE TUNING if you have a windows laptop/wifi/vag cable by downloading the Teamview program.
----------
*Upon check out, we will be contacting you with your TUNE-SPECIFICS (ie: supporting mods, injector size, ID of MAF housing, etc) as well as shipment info.