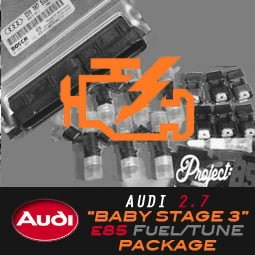 $

799.00 - On Sale
A truly wicked tuning/fueling package for those still on k03's wanting power comparable to a pump gas rsk04 car. Instant spool & mega torque with this file.
COMPATIBLE WITH:
2000-2002 Audi S4 & RS4 B5 2.7T
1999-2005 Audi A6 C5 2.7T
2001-2005 Audi AllRoad C5 2.7T
INCLUDES
6 x 550cc Ev14 Bosch Injectors
6 x Injector Adapters
Custom e85 ECU Tune Software & Service
----------
*This tune shines with upgraded downpipes, intercoolers, diverter valves, fuel pump, etc. Please have a well maintained/sorted vehicle before performing any tuning upgrade!